This section is meant to showcase the possible look a remake of Castlevania 3 : Dracula's Curse would bear. In recent years, the 2d Castlevania games have used sprites from Akumajou Dracula: Chi no Rondo and Castlevania : Symphony of the Night, not only for the enemy characters but also for backgrounds, combined with with 3d elements taking advantage of the handheld gaming consoles, such as Gameboy Advance, Nintendo DS and Sony PSP.
Therefore, it can be safely assumed that a remake of Castlevania 3 would sport a look reminiscent of Castlevania: Symphony of the Night. The purpose of these hypothetical screenshots is to make an approximate comparation between the original NES release of Castlevania 3 and the appearance the remake would most-likely bear.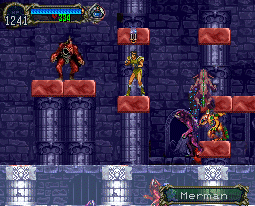 Trevor Belmont battles Mermen in the original and in a hypothetical screenshot.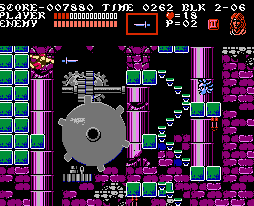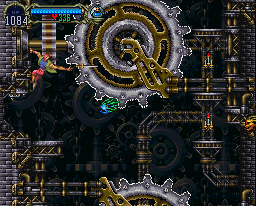 In the same fashion, Grant DaNasty battles Medusa Heads in both comparative screenshots.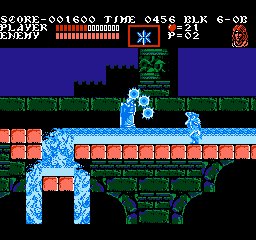 Sypha Belnades in screenshot from the original game and in a hastily created hypothetical screenshot.
Also, two videos featuring a remake of Dracula's Curse by fans, the project sadly in hiatus for the time being, but the video can be a better reference of what the Konami remake would be like. The music in the videos was added later, it can't be found in the game demo, but it also helps to imagine the experience in case the game is remade:
Video 1:

Video 2:

Of course, I must confess I was too lazy to make the hypothetical images look exactly to their counterparts in the original game, but I think they're enough to make yourself have a mental idea of how the re-created game would look. I will add some more later. I must say I would prefer Konami to stay true to the original and not make further modifications aside from the graphic revamp. But a few new gameplay mechanics, if correctly implemented, could be a big enhancement. And also, I think that although I love the protagonist characters as they are, some design enhancement by Ayami Kojima for Trevor, Sypha, Alucard and Grant would be a nice bonus, if she executes it correctly, without removing much from the original design. Or who knows, maybe Konami could even use the new redesigns for Trevor and Grant found in Castlevania Judgement, by Takeshi Obata, the author of Death Note and Hikaru no Go manga. I just think I would prefer Kojima's take over Obata's.
Well, I think it is just a matter of time for actually getting to know how the finished product would be, if Konami hears our pleas, so please continue supporting this online petition and spread the word as much as possible.